Resources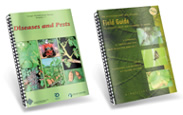 by Ed. Phil Nicholas, Peter Magarey & Malcolm Wachtel
There has never been a comprehensive guide to the diseases, pests and disorders of grapevines in Australia and New Zealand. This text has been compiled by researchers from Primary Industries, South Australia, and is designed to provide a practical manual for identifying, preventing and controlling diseases and pests. Each section has information on identifying, monitoring and controlling the disease or pest, and is copiously illustrated with high quality illustrations in full colour. The emphasis is on providing practical advice to growers, but the book will prove an invaluable text for students of viticulture around the world. A whole section of the book is devoted to spraying technique, and another gives a full listing of chemicals and their application.
by Peter Magarey, Alison MacGregor, Malcolm Wachtel and Michelle Kelly
The authors, from the South Australian Research and Development Institute, Loxton, and Agriculture Victoria, Sunraysia Horticultural Research Institute, aimed to develop a practical tool for grapegrowers to identify diseases, pests and disorders - a fundamental phpect of efficient vineyard management. The result is this sturdy, pocket-sized guide, containing more than 350 full colour photographs accompanied by short, easily read descriptions of most diseases, pests and disorders found in the vineyard. It is a companion to Diseases and Pests (Nicholas, Magarey and Wachtel) and contains cross-references to the larger publication, but stands alone as an easy to use field guide.